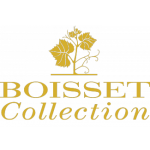 Unknown
Est. Annual Sales
Food Products
Industry Category
Unknown
Sales & Transfers
Overview
Jean-Charles Boisset was born to a family of winemakers in the village of Vougeot, Burgundy, France. As a child, he grew among the vineyards of Ch'teau du Clos Vougeot, the epicenter and birthplace of Pinot Noir and Chardonnay. Today, he works with a team of wine experts and entrepreneurs providing an unparalleled opportunity for wine lovers to share their passion.

Members of the Boisett Wine Society receive curated selections or create their own collections based on their personal wine style. Tasting guests sample five to six unique limited editions available only through Boissett Collection Ambassadors, who make it easy for wine lovers to order their favorites. The Ambassadors themselves are wine lovers trained to share their love of great wine. More information can be found at http://my.boissetcollection.com for those curious about the Boissett Collection of wines, Tasting Experiences, or becoming an Ambassador.


849 Zinfandel Lane
St. Helena CA 94574-1645
US
Recent News
for Boisset Collection
Thursday, November 19, 2020
/PRNewswire/ -- Jet Linx, the leading private jet management and Jet Card membership company in the United States, today introduced Boisset Collection and Epic...