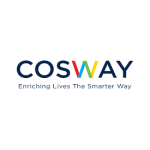 Unknown
Est. Annual Sales
Beauty Products
Industry Category
Unknown
Sales & Transfers
Overview
Cosway Corp. Ltd. distributes and sells cosmetics, skin care products, and health supplements. The company operates in Malaysia, Taiwan, Hong Kong and Indonesia. Cosway Corp. Ltd. specializes in high-quality cosmetics and has multiple sales centers in Asia.
Menara BGI, Plaza Berjaya, 1
2, Jalan Imbi
MY
Monday, January 11, 2016
/PRNewswire/ -- Research and Markets (http://www.researchandmarkets.com/research/jrqd4p/health_supplement) has announced the addition of the "Health Supplement...