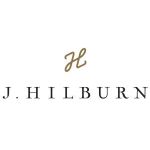 $10.00 Million
Est. Annual Sales
Fashion and Clothing
Industry Category
Unknown
Sales & Transfers
Overview
In an attempt to improve the menswear industry and produce luxury clothes at affordable prices, the creative brains behind J. Hilburn have opened a huge door of possibilities. They have decided that it's finally time to stop wearing ill-fitted clothes and start wearing custom-made clothes that actually fit you.

As a result, their company now operates with a direct-to-consumer model which involves having Personal Stylists come and help you with your perfect fit and style, as well as a 90-Day risk-free Fit Guarantee. From now on, men will be able to wear custom and handcrafted shirts and suits without spending a fortune! In addition to this cutting-edge selling model, J. Hilburn also offers business opportunities for all stylish and motivated people out there to join the team and become Personal Stylists.
12700 Park Central Drive
Suite 2000
Dallas TX 75251
US
Recent News
for J. Hilburn
Friday, October 25, 2019
/PRNewswire/ -- Knot Standard, the leader in premium custom menswear, announced today that former J.Hilburn CEO and Co-Founder, Veeral Rathod, will be joining...