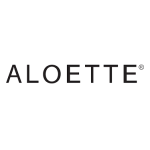 Unknown
Est. Annual Sales
Beauty Products
Industry Category
Unknown
Sales & Transfers
Overview
Aloette is a cosmetics line that follows the principle of 'Farm to Jar', thus providing the freshest ingredients in their products.

The main ingredient in the Aloette products is a superior form of Aloe Vera known for its countless skin health properties. Plus, they use a next level anti-age technology.

Whether you're looking for a full-time job or a flexible part-time way to earn something extra, Aloette can offer you the opportunity to become a Beauty Consultant. Beauty consultants promote the company online and offline, have their own online shop, and earn by sales commissions.
6120 Powers Ferry Road
NW Suite 300
Atlanta, GA 30339-2982
US
Recent News
for Aloette Cosmetics
Wednesday, June 24, 2020
ATLANTA (PRWEB) June 24, 2020 -- Aloette Cosmetics, a leading innovator in age-defying skincare and beauty, continues to adapt to the everchanging cosmetic landscape by taking their company "virtual". The clean, Aloe Vera based beauty brand has successfully shifted their business model amidst the COVID-19...