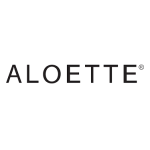 Unknown
Est. Annual Sales
Beauty Products
Industry Category
Unknown
Sales & Transfers
Overview
Aloette is a cosmetics line that follows the principle of 'Farm to Jar', thus providing the freshest ingredients in their products.

The main ingredient in the Aloette products is a superior form of Aloe Vera known for its countless skin health properties. Plus, they use a next level anti-age technology.

Whether you're looking for a full-time job or a flexible part-time way to earn something extra, Aloette can offer you the opportunity to become a Beauty Consultant. Beauty consultants promote the company online and offline, have their own online shop, and earn by sales commissions.
6120 Powers Ferry Road
NW Suite 300
Atlanta, GA 30339-2982
US
Recent News
for Aloette Cosmetics
Wednesday, April 21, 2021
ATLANTA (PRWEB) April 21, 2021 -- Aloette Cosmetics—a leading innovator in clean skincare and beauty—is gearing up for spring with the launch of a Tropical Gardens Body Collection, Leaf Relief CBD Infused Aloe Gel and Complete Contour Hydrating Lip Volumizer. These exciting seasonal launches aim to...
Thursday, March 11, 2021
ATLANTA (PRWEB) March 11, 2021 -- Aloette Cosmetics—an industry leader in clean, Aloe Vera-based skincare and beauty—announced, today, the launch of their new Beauty Biome Microbiome Complex Serum. Formulated with the brand's clean beauty philosophy, Beauty Biome features a nourishing blend of pre and...