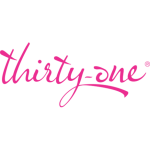 $500.00 Million
Est. Annual Sales
Household Goods
Industry Category
Overview
15 years ago, Thirty One Gifts was founded based on an inspiring vision to help women around the world launch their career and become independent. Since then, Thirty One Gifts has stayed true to its mission to empower women through selling home products and accessories, handbags, jewelry, printed and personalized products, thermals, and much more.

Businesswomen who are eager to grow and succeed can join Thirty One Gifts as Consultants whose job would be to promote and sell the company's items through parties. Whether it's a face-to-face, in-house party or an online party that you choose to throw, Thirty One Gifts will give you an incredible compensation plan, free products, and many other rewards and benefits.


3425 Morse Crossing
Columbus OH 43219
US
Popular Videos
for Thirty One Gifts
Recent News
for Thirty One Gifts
Thursday, August 9, 2018
COLUMBUS (PRWEB) August 09, 2018 -- Thirty-One Gifts announced two new product line additions with the release of their new Fall 2018 catalog -- Get Creative, and Photo by Thirty-One.
Tuesday, April 3, 2018
COLUMBUS, Ohio (PRWEB) April 03, 2018 -- Company Introduces Its Newest Addition While Supporting Families in Need Through "Thirty-One Gives" with Ronald McDonald House Charities
Friday, January 19, 2018
COLUMBUS, Ohio (PRWEB) January 19, 2018 -- A huge pink mobile shop is scheduled to roll across the country celebrating Thirty-One Gifts' 15th anniversary, hosting guests at a celebration tour, beginning January 23. The tour will make 69 stops through July 2018.
Tuesday, August 29, 2017
Columbus, Ohio (PRWEB) August 29, 2017 -- Direct-selling company Thirty-One Gifts announced it is offering its first baby-style pattern available on select products in September, as well as new baby-style personalization designs.
Wednesday, July 5, 2017
Columbus, Ohio (PRWEB) July 05, 2017 -- July is National Ice Cream Month, and Thirty-One Gifts is celebrating with a newly released ice cream print available on several products, as well as ice cream bowls and special ice cream cone and popsicle personalization, available only in July.