Five Ways to Break Out of Your Friend Circle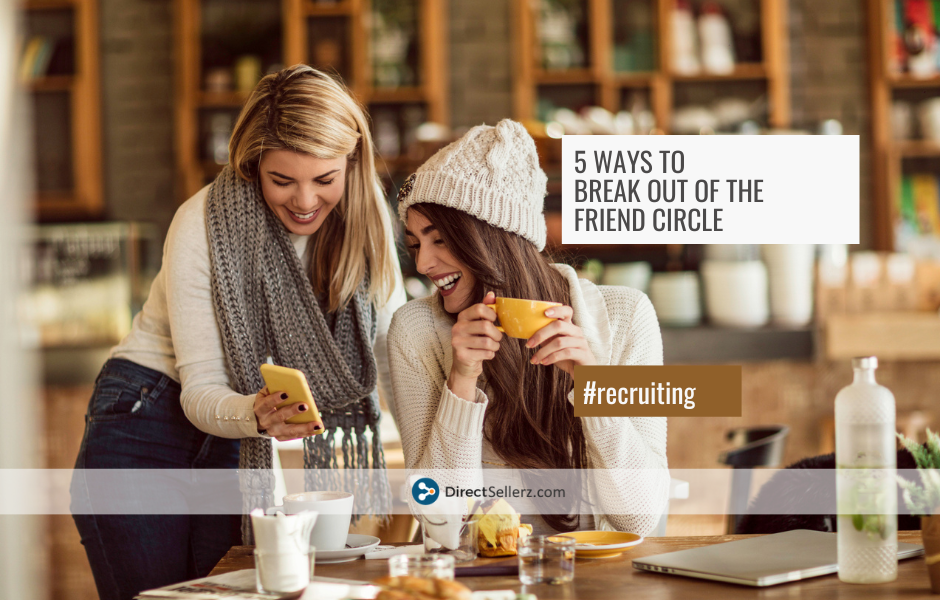 One of the biggest challenges of building a direct sales business is marketing and growing your list of leads beyond your circle of friends or hot list. Your
hot list
is your inner circle of people, including neighbors, colleagues, family, friends, and even your local hairdresser or pastor. Growing outside your network can often be a barrier that keeps direct sales recruits from increasing. While it takes confidence to reach out to people, the fear of rejection is one of the top reasons direct sellers face.
While it may feel impossible at times to market outside of your inner circle, the world has become more connected than ever, thanks to technology, the internet, and social media. It is much easier to find potential recruits or customers in your community and around the globe. Below are 5 of the best ways to break out of your friend circle, expand your network and build relationships with potential recruits.
1 - Ask Friends for an Introduction
Asking friends to introduce you to their friends is one of the most convenient ways to expand your network without reaching out to total strangers. Research has shown one of the best forms of networking and building strategic partnerships is through the introduction of a mutual connection. Talk to people already in your network about meeting their friends or colleagues who may be interested in marketing your product. Family and friends are often quick to support you in helping you grow your small business, so don't be afraid to ask for an introduction! Being introduced by a mutual friend will often help the potential recruit meet you with an already positive perception and recommendation.
2 - Offer a Free Referral Gift
Giving incentives for people to help you onboard potential recruits is a great way to expand your circle and get more people talking about your business or product.
Offering a free gift for referrals shows you value the time and energy of people willing to talk about your business and support you.
Turn every "No" into a potential referral by offering them a free gift or product. Even if they aren't interested in your business opportunity, they may know someone who could be a perfect fit. Showing people that you value their time helps build an element of trust for your brand or business.
3 - Utilize Social Media to Your Benefit
With the rapid growth of the cyber world only continuing to expand, now is a better time than ever to build your virtual business presence online. Some of the world's most successful products and businesses owe their rapid growth to social media. Begin by focusing on one social networking site you feel most comfortable with.
Instagram
and
Facebook
are favored for their online optimization and easy direct messaging systems. Don't overstress yourself by using various platforms and trying to manage all of them at once. This is a mistake that some independent marketers make, and it can lead to burnout and disorganization. By focusing on building up your brand on one platform, you can take time to connect with followers and build authentic relationships. This is especially important for building a virtual business because some people are already hesitant to purchase products online. Nobody likes receiving a direct message that sounds like a robot wrote it.
Provide value and knowledge to attract viewers before pitching your products or business opportunity so they know you are a human being!
4 - Focus On The Numbers
When starting off building a new product, brand, or service, it is essential to reach out to as many people as possible, even if it feels like you're getting nowhere some days. While it can feel like a lot, make a daily goal to talk to 2 or 3 people about your business daily, even if it is only through social media or email.
The more people you speak to, the quicker your circle will naturally grow and the easier it will be to market your product.
The beginning is always the hardest part, but the goal is to build such a large network that soon enough, you have many people talking about your product for you!
5 - Follow Up With Customers
Customers who already use and love your products are some of the easiest people to recruit. They also make some of the biggest impacts in selling your business because they have a genuine and personal experience with the product. Finding customers who already have a passion for your product will show your brand is personable. Many independent business owners and direct marketers enjoy joining for discounts on the products they already enjoy using. Consumers enjoy businesses that see their value as buyers, and this is a great way to get people talking about your product and build a loyal customer base.